Presents
FC-AFC Field Of Dreams I'm A Winner
CHAMP

Sire:FC-AFC Fox Hollow's Little Buddy
Dam:Field of Dreams Dreaming Casie
Whelped: 12-21-99
Hips-OFA- LR-120334G24M Elbows OFA LR- EL14868M24
LR EIC215/104M VPI CERF - Normal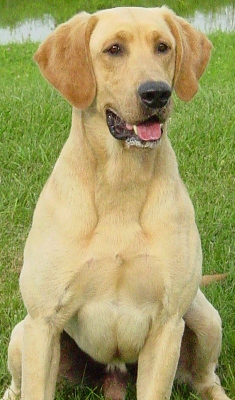 Champ

Achievements: Champ made the derby list for top 2 yr. and under dogs to show exceptional marking.
Quilified All Age at 18 mo. Won 67 dog Qlf. Field Champion and Amateur Field Champion. Excellent marker,exceptional nose. Champ is also excellent upland bird hunter from a long line of Pheasant Tournament Champions.
Hunted waterfoul in 3 states. He had a great personalty and fun to be around in the house or out training.
Champ has also been a great sire producing excellent Field Trial, Hunt Test quilty siblings that also make great pets and hunters.
Pedigree

Parents
GrandParents
GreatGrandParents

SIRE -BUDDY

FC AFC Fox Hollow's Little Buddy

FC AFC Webshire's Honest Abe

FC AFC Wilderness Harley To Go
Pine Creek's McChigger
Zip's Magic Marking Ink
NAFC FC Trumarc's Zip Code
FC AFC Ms. Mischeifs Magic Marker

DAM - CASIE

Remington's Dreaming Casie JH

WGBA State AMT. Pheasant Champion

Gipper
FC AFC Wilderness Harley To Go
K&S Wolf River Alex
Remington Lucky Duck 3xMH MNH Hall of Fame WGBA State Pheasant Champion - Minn State Partrige Champion

GMH Candlewoods Lucky Irish Whiskey

Wisconsin State Pheasant Champion

Chantilly Lace XXV