Due May 5th!
This is a repeat breeding. The last litter produced had pups that went on to achieve derby list status, qualified all age, and all age points. Because these were such phenomenal puppies we are happy to announce we will be doing a repeat breeding and can only expect similar things for these puppies. Please contact us soon as this litter will fill up very quickly!
Minnie x Grady
Minnie
Field of Dreams Rangers Little Girl Q.A.A.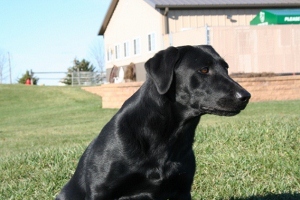 Mini: Qualified all age at 17 mo. Litter Mate to Field of Dreams Range Finder Q.A.A. 20 Derby Points, 9 trials and Field Of Dreams Jessie James QAA 32 derby points Mini's sire; Nick of Time Lone Ranger in 5 yrs – 144 AA points, Qualified to 9 nationals, Double Header Winner, Sire to 2010 NFC Boo Boo, 2009 High Point Open Female FC-AFC Mercy.
X
Grady
NAFC-FC Cody Cut Lean Grade

Grady: 2011 NAFC - 2008 High Point Open Dog - 15AA WINS - Over 100 AA Points - Qualified for 11 Nationals.
#6 on the Derby List (36 Derby points in 15 starts with 5 wins)
Qualified All Age (won a 48 dog Qualifier at 18 months)
Achieved his FC and AFC at 4 years of age.
Qualified for the 2008, 2009, 2010, 2011, 2012 National Amateur.
Qualified for the 2008, 2009, 2010, 2011 National Open
2008 High Point Open Dog (4 wins and 25 points)
Qualified for the 2011 Canadian National Amateur
Qualified for the 2011 Canadian National Open
2011 National Amateur Winner
Qualified for 11 consecutive Nationals
Please visit http://www.paddlecreekretrievers.com/index.htm for more information on Grady


Super Powder


Code Red
FC ARFC Code Blue
1984 NAFC FC Trumarc's Zip Code
Nikcoal of North Boundary
"Grady"
Hunters Marsh Sagebrush-Sal
Sire:
NAFC FC Cody Cut A Lean Grade
87 CNFC '92 CNAFC Waldorf's High Tech
2x NAFC 2x CNAFC FC Ebonstar Lean Mac
Ebonaceae Princess WCX
Ms Lean Mac'ce
FC AFC Trumarc's Ziparoo
FC AFC CFC Candlewood's MS MB Kate
3x NFC AFC Candlewood's Tanks A Lot
Puppies
FC AFC Code Blue
Espirt's out of the Woods
FC AFC Fishtrap Debbie Does Ducks
FC AFC Nick of TimeLone Ranger
FC AFC Sky Watch Scanner
FC AFC Scan's In the Nick of Time
"Minnie"
Goose Down Hannah Honey MH
Dam:
Field of Dreams Rangers Little Girl QAA
FC AFC Dare to Dream
NAFC FC AFC Carbon Copy of Horn Creek
AFC Sparkle Plenty of Horn Creek
Biggun's Little Jazz Q.A.A.
CNFC CNAFC Waldorf's High Tech
FTCH AFTCH Meadowcreek's A.M. Express
Gunpoint Tess