Journey x Tate
Journey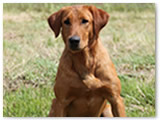 2016 BDC World Champion!!
National Bird Dog Circuits Upland World Singles Champion
THE BLAST's RED PATH "Journey" MH
Journey is the up and coming Fox Red stud for the next decade with extraordinary talent!
Journey came to us as the only EIC clear male in the litter, making picking rather easy! From the moment I laid eyes on him I knew he was going to be something special! He had a confidence about him that just does not exist in puppies. We believe that the pairing of fox reds, that made Journey, is the best over the past decade. No pedigree has this long a history of fox reds being extremely talented. No current Fox Red stud dog comes from a pairing with two dark Fox Red parents-EXCEPT, Journey!
Starting the training process, I knew I had something special, very special! Journey would pick up on whatever I was trying to teach him in a matter of minutes. His eyes were always glued on me hungry for anything that I would teach him. His trainability was far beyond any dog I had ever trained. Whether it be training in marks and blinds for Hunt Tests and Field Trial Qualifying or upland training for tournaments and guiding, Journey was up to whatever task I put in front of him. I took Journey at 8 months old to see if I could run him at a AKC Senior Hunter stake as the test dog. He ran the test better than any dog entered earning praises from the judges for being so good at such a young age.
Journey is the epitome of athleticism and looks in a Lab! He is 62 lbs of ripped muscle with a nice head, dark brown eyes and a shiny dark red coat that earns him compliments everywhere I take him. Journey's career path led him down two different training regimes, Waterfowl and Upland.
On the Waterfowl side Journey has shown extra ordinary skills in training for AKC Master Hunt Tests and Field Trial Quals. Journey earned his AKC Master Hunter Title at 2 years old qualifying him for the 2016 AKC Master National. Along the way he has made many fans by impressing judges and the gallery everywhere he went. Comments remained the same, "that red dog is something special!" Although Journey is impressive in any competition arena he's in, it is the composure he has on real life hunts that makes him admired the most. In the blind Journey is an intense statue that sits calm, quiet, patient and obedient, waiting for the cue to be sent on birds that have been taken by the gun. It is extremely entertaining on each and every hunt he goes on, to see him get the thrill of "barrel rolling" a cripple! It is so impressive to see Journey use all his skills and beyond in real life experience that leaves you with so many memories afield.
On the upland side Journey's supreme athleticism, methodical gait, "until he dies endurance" and extreme nose make him a pure joy to hunt behind. Whether it be pheasant and grouse hunting or upland bird dog tournaments Journey is up to any upland task at hand.
He started his upland tournament career placing 2nd in his first tournament at a year old in the puppy division qualifying him for the 2015 BDC World Championships. At 15 months old Journey made the finals of the 2015 BDC World Championships and became a fan favorite on the current reality show called "Bird Dog Wars' broadcasted on the Pursuit Channel (Like "Bird Dog Wars on Facebook to see Journey). Early October 2016 Journey swept both the singles and puppy divisions at the BDC Top Gun Championships Super Major event earning his owner the prestigious "Black Jacket" only awarded to dogs that win Super Major events.
UPDATE: Journey becomes BDC Upland World Champion! Journey became National Bird Dog Circuits Upland World Singles Flushing Champion in Meridan, KS on Oct 29, 2016!! Watch Bird Dog Wars season 2 in the summer of 2017 to see Journey in action!
Journey's Profile:
DOB: 07/19/2014
EIC: Clear
CNM: Clear
Hips: Excellent
Elbows: Normal
CERF: Clear
PRA: Normal
Journey's Accomplishments:
AKC Senior Hunter Test Dog at only 8 Months old
September 2015, 2nd place puppy division at Trigger Time BDC Major Tournament qualifying him for the BDC World Championships
October 2015, BDC World Championships finalist featured on the new reality show "Bird Dog Wars" on the Pursuit Channel
October 2015, Journey was used for all the training tips on the show Bird Dog Wars
January 2015, BDC Invitational Super Major-Puppy Division Champion
March 2015, 2 UKC Finished Passes
July 2016, AKC Master Hunt Title and qualified for the 2016 AKC Master National
October 2016, BDC Top Gun Super Major Singles CHAMPION
October 2016, BDC Top Gun Super Major Puppy Division CHAMPION
October 2016, BDC World Champion!!
Journey's Attributes:
Clear of all health defects
Exceptional pedigree
Pin Pointer Marker
Impeccable line manners
Stylish and straight-line blind running
62 lbs. with an extremely athletic build
Amazing upland nose and stamina to last all day in the upland field
Highly consistent in Upland Competitions
Highly consistent in AKC Hunt Tests
Great companion in the house around kids and other people.